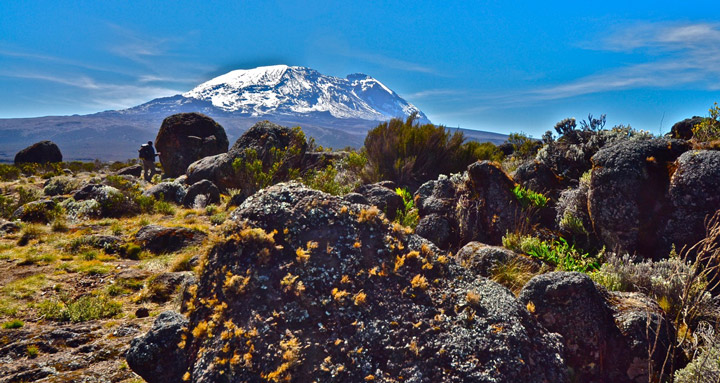 Chapter 30: Day Eight – Part 1
WE ARE ON THE WAY ….. :)))))
WE STARTED AT 6 AM WITH HEADLAMPS ….. NO LIGHT ….. NO PHOTOS:)))))
WE KNEW WE HAD 8 HOURS OF 'UP' AHEAD OF US ….. 
WE KNEW THIS WAS THE LEG IF ANY THAT WOULD BREAK US …..
POLI ….. POLI ….. IN SWAHILI ….. SLOW ….. SLOW ….. WE PLODDED UP …..
I DID NOT USE …..  UNTIL THIS PIT STOP ….. ANY GAS (ENERGY:))) ….. TO SHOOT PICS
NOW THE SUN ENERGIZED ME ….. AND EVERYTHING I DREAMED ABOUT ….. BEING AT THE TOP ….. REFLECTED IN MY THOUGHTS …..
I WAS GETTING MUCH CLOSER TO MANY PEOPLE I LOVED …..
THAT'S WHAT I WAS WARMLY THINKING:)))))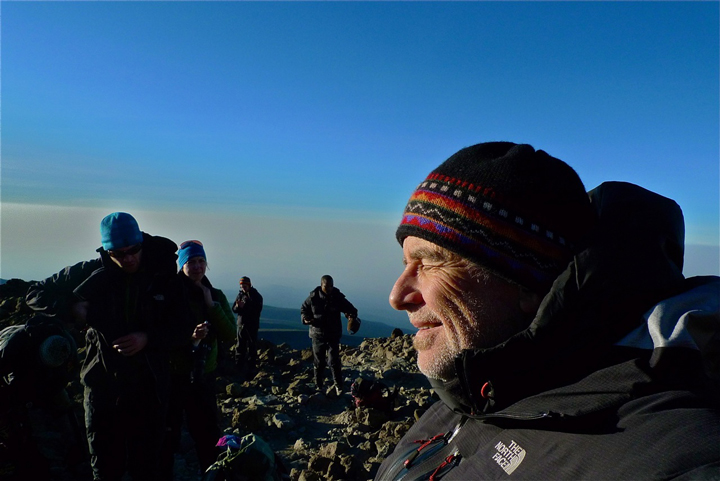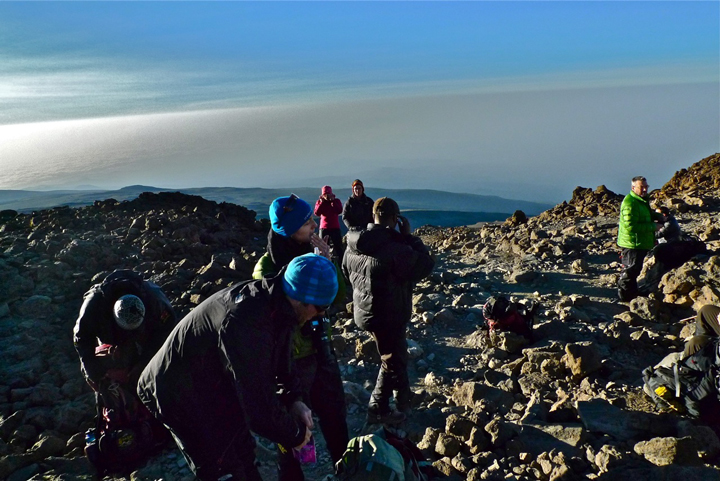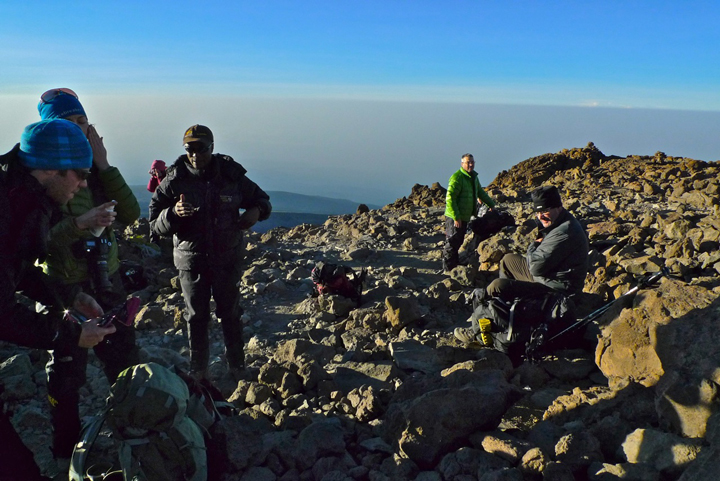 THE PIT STOPS TODAY WERE QUIETLY REFLECTIVE ….. THE LOOMING PASSAGE INTO THE ICE AGE CALMLY AFFECTED US ALL …..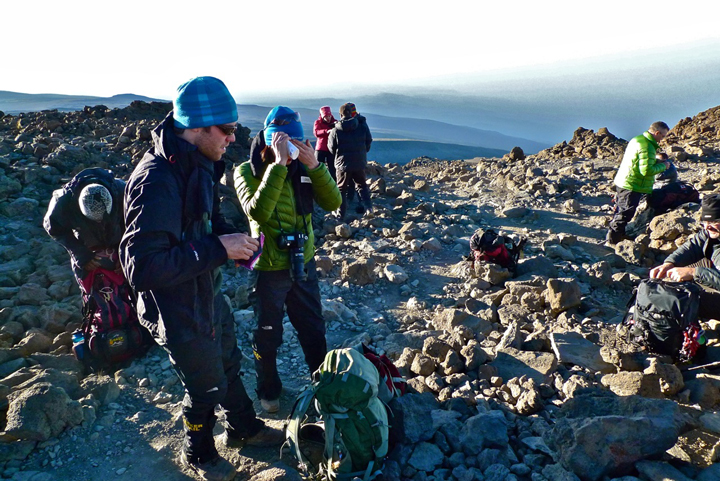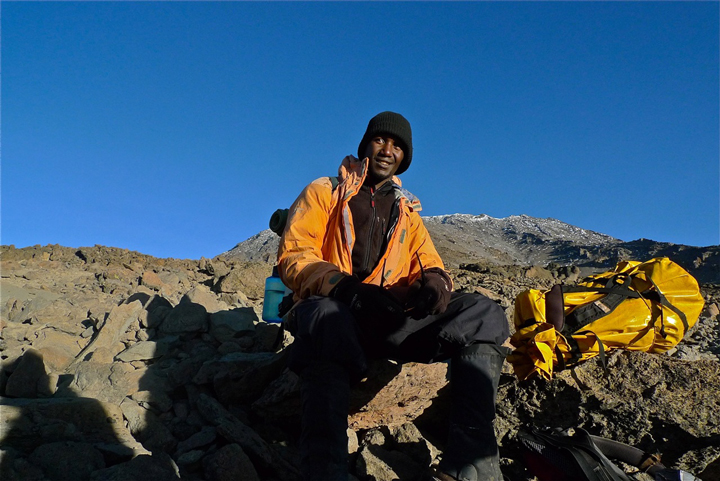 IN GOOD ECONOMIC TIMES OUR GUIDES AND PORTERS WOULD GO UP AND DOWN KILIMANJARO 16 TIMES IN A YEAR …..
IT WAS DOWN TO 8 TIMES A COUPLE OF YEARS AGO …..
NOW IT'S UP TO 12 TIMES ….. THINGS ARE GETTING BETTER:)))))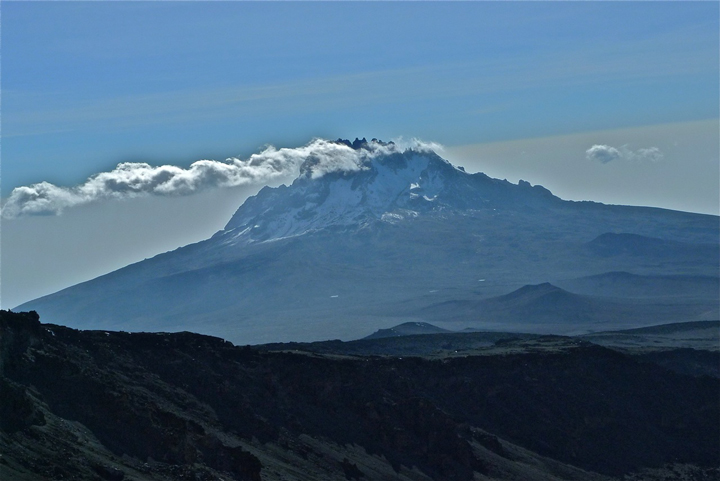 THIS PEAK ….. OFF TO OUR RIGHT …..  AS WE MOVED UP TO 19,340 FEET ….. I KNEW WAS LESS THAN 19,000 FEET TALL
 ….. EVERY TIME I LOOKED OVER AT IT …. I HOPED I WOULD FEEL PARALLEL WITH THE TOP ….. NOT YET:)))))
WE HAD A WAYS TO GO:)))))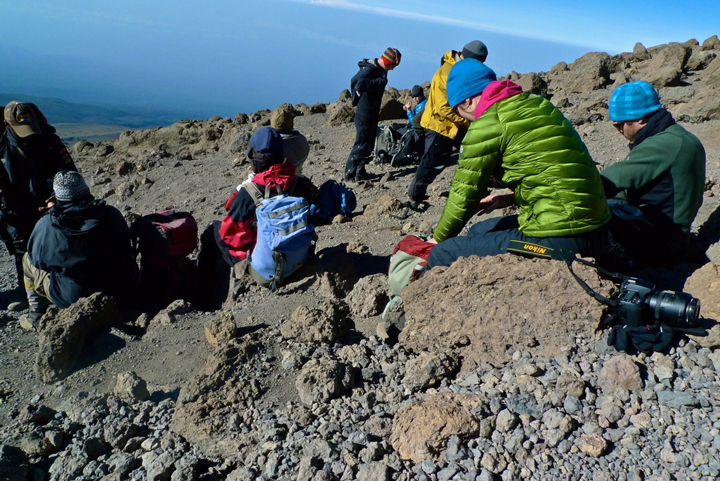 THE PIT STOP CONTINUES ….. EVERYONE OF US BY THEMSELVES ….. REFLECTIVE …..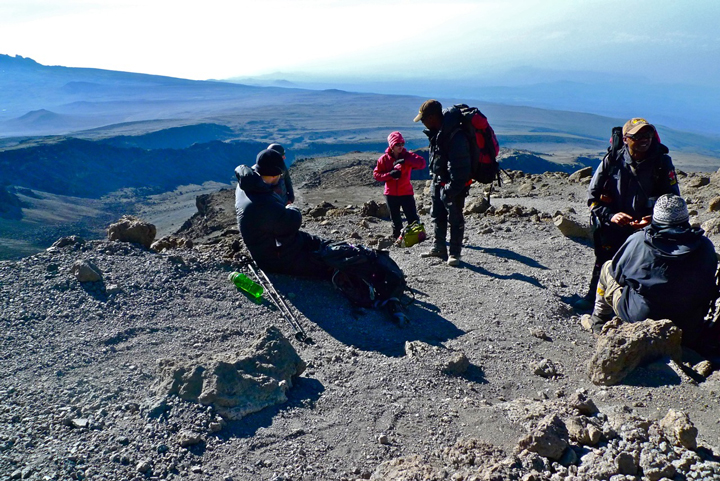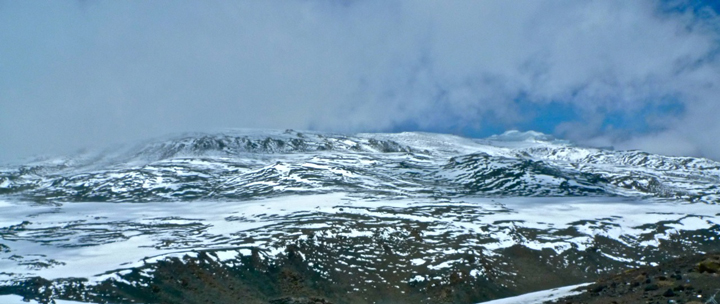 FIVE HOURS LATER THE VIEWS HAVE CHANGED …..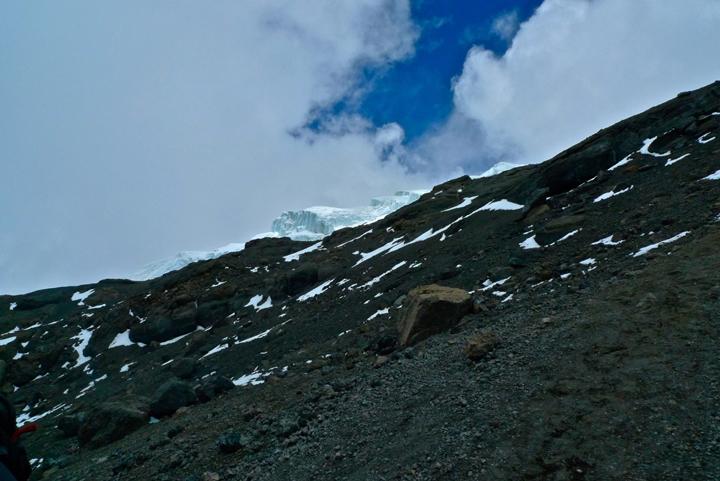 ….. ONE HOUR LATER WE GET OUR FIRST PEAK OF THE GLACIERS ….. WOW :))))) ….. WOW:))))) …..WOW:)))))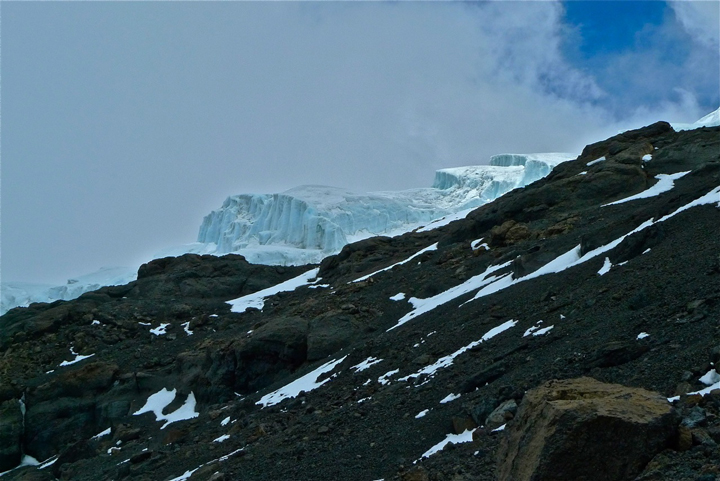 IT IS LIKE STEPPING BACK IN TIME …..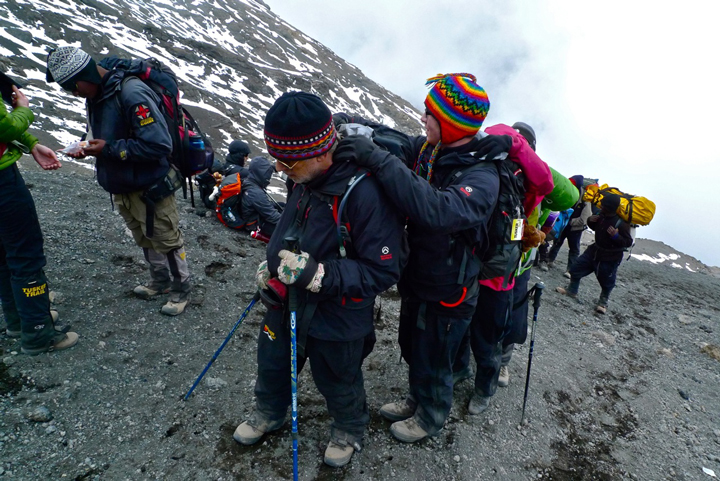 ….. BACK TO THE PRESENT ….. 7 HOURS HAVE GONE BY ….. WE ARE CLOSE ….. 
….. WE DO THE MODERN THING ….. WE STEP BACK INTO THE PRESENT ….. 
….. WE DO  A TRAIN MASSAGE:))))) ….. WE'VE REFLECTED ENOUGH:)))))
….. WE ARE TIRED, GIDDY, EXCITED ….. YAAAAAAAAAAAAA:)))))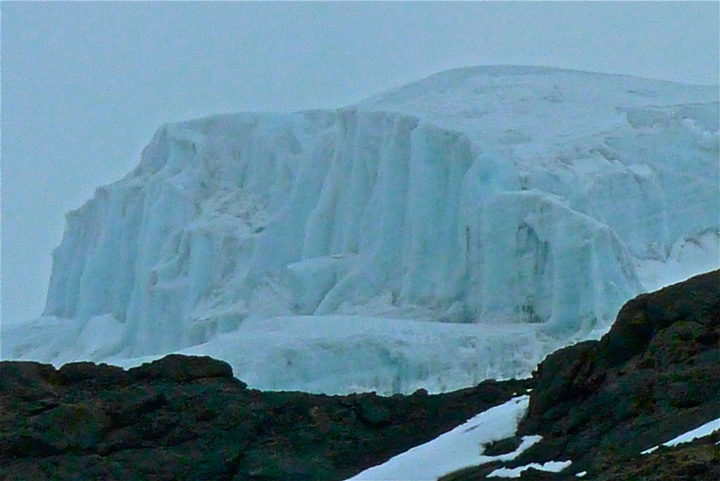 I AM IN AWE ….. JUST BEAUTIFUL AWE …..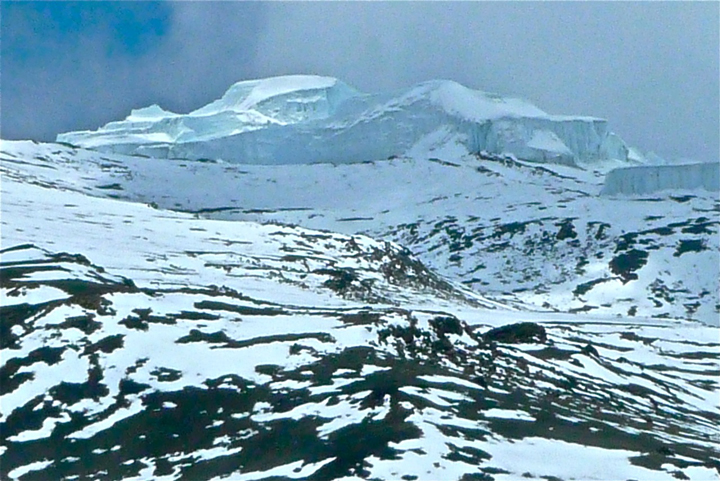 I COULD TAKE THE SAME PICTURE A HUNDRED TIMES ….. IN HOMAGE TO NATURE ….. TO THE CREATION ….. WELL ….. I HAVE NEVER SEEN ANYTHING LIKE THIS BEFORE ….. WHAT A PRIVILEGE ….. THANK YOU DESTINY …..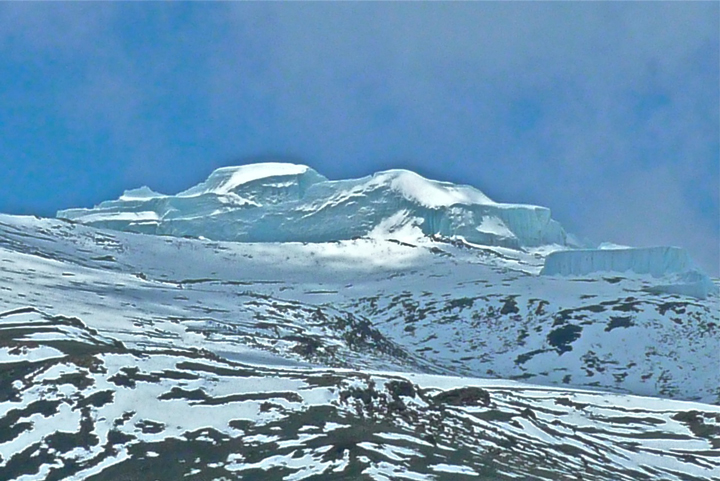 ONWARD AND UPWARD ….. SO …..  A LITTLE CLICHE ….. IN THE PRESENCE OF SUCH A VIRGIN VIEW ….. VIRGIN TO OUR EXPERIENCE:)))